Experience the Plants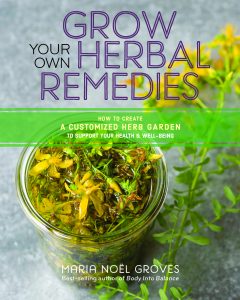 Get started with Maria's home recipes. This page features seasonally inspired recipes for culinary, medicinal, or body care herbal delights. Check back every few months for new themes and recipes!
You'll also find more articles and posts on the blog page as well as in my class notes and on Facebook.
Also check out my NEW BOOK, Grow Your Own Herbal Remedies, as well as my best-selling, award-winning book Body into Balance here for more recipes, herbs, and information on immune health and other healing topics.
Herbal Recipes for the Waning Year
Medicinal & Culinary Recipes for Warmth, Resilience & Immune Health
In Autumn in Winter, we turn to medicinal mushrooms, strengthening roots, immune-boosting tonics, winter squash, warming spices, nourishing broths, and more...

Herbal Immune Basics
These are my personal go-to remedies!
Darcey Blue's Elder Syrup Recipe
This recipe comes from fellow herbalist Darcey Blue from Blue Turtle Botanicals in Arizona. Many elder syrup recipes call for cooking fresh berries, but this handy recipe uses dry berries (easily available in commerce). Darcey feels that heating the berries for a long time weakens the potency of elderberry. It's a 1:2 infusion of herbs preserved with honey and alcohol. I've adapted the original recipe by using the a larger amount of 100 proof vodka to make it shelf stable (for less alcohol, use regular vodka or brandy, half the amount called for here, and store it in the fridge) and cutting it down by 1/4 to make 8 oz total. You could also substitute sugar (a better preservative) for the honey, same proportion.
1/4 cup dried elderberries
2 tbls dried elderflowers
2 tsp ginger chips (or grated fresh ginger)
1 tsp cinnamon chips
4 oz boiling water
2 oz 100 proof vodka*
1/4 to 1/2 lemon, juiced
~4 oz raw honey or sugar
Mix all the dried herbs together in a jar.
Pour boiling water over the herbs, add the alcohol.
Cap and let infuse 8 hours or overnight.
In a muslin, jelly bag, or cheesecloth strain the herbs from the liquid.  Squeeze gently to get as much fluid from the herbs as possible.
Add the lemon juice.
Measure out exactly how much liquid you have in a glass measuring cup.
Add an equal amount of raw honey or sugar to the liquid.  Mix well until sugar dissolves.
Bottle and store
*This is for a shelf-stable syrup. For a fridge-stable syrup, you can use 1 oz of 80 proof vodka or brandy instead.
Recommended Dosage: 1-3 tsp per day all season long, or 1/2 tsp hourly in acute illness. If you're using a dropper bottle, 1 tsp = about 4-5 squirts 
Alcohol-Free Elderberry Oxymel
If you prefer an alcohol-free elderberry syrup, try this simple recipe.
Take your jar of choice and...
Fill 1/4 with dried elderberries
1/4 with dried rosehips and/or schizandra berries
Cover halfway with apple cider vinegar (ie: Bragg)
Fill to top with raw honey
Shake thoroughly to combine, then shake it every day or so for 2-4 weeks, strain. Use at approximately the same dosage as elderberry syrup, above.


Fire Cider
Make a large batch of this each fall and use it throughout the year in food or solo. Pungent & delicious! This recipe is adapted from Rosemary Gladstar's classic Fire Cider recipe, meant to be shared and used freely. One company has controversially trademarked the term "fire cider" even though it has been around much longer than this company - learn more about that controversy and what you can do here. Regardless of the controversy, you can easily make your own batch of this great wintertime remedy!
1 quart raw apple cider vinegar
1 large onion
1 head of garlic
1-4 jalapeño or other hot peppers
3 inches of horseradish root
4 inches of ginger root
1 tablespoon black peppercorns
2 teaspoons salt, optional
3 tablespoons honey, optional/or to taste
Anything else you want to throw in there (turmeric, lemongrass...)
Chop/mince/grate the herbs to your liking or simply pulse it all in a food processor. Fill your jar most of the way. Cover with raw, organic apple cider vinegar, about 1 quart
Let sit for at least one month before straining.
Great in salad dressing, marinades, broths, stir fries, or by the spoonful when you're not feeling well. For example, see the spicy maple-mustard dressing for the apple-cranberry salad further down on this page. Yum!


Ginger Thermos Tea
Ginger makes a great base to many winter teas. It's antimicrobial, warming, diaphoretic, anti-nausea, and it promotes good gut bacteria (which is one of our first defenses against microbes). I personally like my ginger tea very strong with lemon and lots of honey.
1-inch chunk fresh ginger, thinly sliced or grated (no need to peel)
16 ounces boiling water
optional ingredients: honey, 2 squeezed fresh lemon wedges, and/or 3 fresh thyme sprigs; 2 cinnamon sticks, 6 whole cloves and/or 1 star anise pod
Prepare ginger, combine in thermos with other optional ingredients, pour in boiling water, cover, and let sit 30-60 minutes before drinking.
Get more tea recipes (sweet-tart red berry tea, immune chai...) here.

Broth, Soup & Stews
Nourishing Bone Broth
Almost every herbalist has a pot of broth simmering in the stove this time of year. A riff on traditional broths made with simmered, leftover bones, we toss in some herbal extras that add nutrition and immune support to keep us healthy all winter long.
Start With:
Poultry Carcass, other bones, or vegetables
Cover with Water
Salt to taste
Tablespoon of Raw Apple Cider Vinegar - optional
(improves mineral extraction but adds a slight vinegar-y flavor)
Add 1-2 Handfuls of Herbs/Mushrooms as desired, such as...
Nettle - mineral-rich
Oatstraw - mineral-rich
Shiitake mushrooms - immune tonic
Maitake mushrooms - immune tonic
1-2 Reishi slices - energy and immune tonic
Astragalus - immune tonic
Seaweed - mineral and iodine-rich
Bit of Calendula - high in beta carotene and carotenoids
Codonopsis - energizing immune and stress tonic
Burdock - mineral-rich and gentle detox support
Simmer for three hours, strain. Freezes well. Use for future soups, stews, cooking grains, etc. *Opt for chemical-free, pastured birds. Beef bones (try Miles Smith Farm) are great, too.
Vegetarian? Skip the bones and start with a basic vegetable stock and/or add miso paste just before serving. 

Italian Egg Drop Soup
Deliciously nourishing and easy to make. Use your homemade herb-infused broth for added benefits.
Serves 2
2 cups chicken or veg broth
2 eggs
1-2 tbls chopped parsley
1/2 lemon, juiced
1-2 tbls grated Parm
pinch nutmeg
Bring broth to a boil. In a small bowl, whisk together eggs, parsley, Parmesan, lemon juice, and nutmeg. Stir it into the boiling soup and summer 2-3 min before serving. Chickpeas and greens (ie: spinach, arugula) can be tossed in to fill it out, if desired.
Lemongrass Pumpkin Bisque

A sensuous blend of local and exotic ingredients. Serve with chicken-cranberry salad sandwiches. Serves two.
Whole, small sugar pumpkin
2 cups chicken or veg broth
Fresh lemongrass
4 allspice berries
1/4 teaspoon turmeric
Pumpkin seeds and skins
5.5 ounce whole coconut milk
To taste: salt, pepper, sugar, nutmeg
Preheat oven to 400°F. Cut pumpkin in half, deseed, and bake
until cooked through, about 30 minutes. Toast the seeds or put them in a pot with the broth.
Scrape out the pumpkin. Put the skins in the broth pot and the cooked flesh into a separate bowl. Simmer the broth with the pumpkin seeds, skins, lemongrass, allspice berries, and turmeric for about 30 minutes, strain.
Add the pumpkin flesh to the strained broth, then the coconut milk.
Puree in the blender or with an immersion blender.

Lemongrass Chicken Soup
Lemongrass brings your basic chicken broth to new heights! Light enough for summer, soothing enough for winter.
1 poultry carcass*
Handful lemongrass stalks
Optional:
Rice
Shredded chicken
Vegetables: cauliflower, summer squash/zucchini, red bell pepper, diced winter squash or sweet potato, green beans, or whatever
Simmer your carcass in ~ 1 gallon of salted water for 2-3 hours (or start with pre-made chicken broth), then add lemongrass. Simmer about 30 minutes more (covered). Strain out broth and add it back to the pan (or freeze for later use). Add your other ingredients and simmer until they are cooked through.
Vegetarian? Start with vegetable broth instead and add cubed tofu, white beans, or protein of choice in place of chicken.
Ginger Miso Soup
This simple recipe is mildly spicy and sweet. It's great any time of the day, even in the morning. Sometimes I have a cup of it before a meal to prevent over-eating. I keep some miso in my work fridge, and a small grater and hunk of ginger in my locker. That way I can make it whenever I'm in the mood or short on lunch ingredients.
1/2 teaspoon fresh grated ginger root (or to taste)
1 slice lemon wedge, squeezed (optional)
1 tablespoon white miso paste
Pour 1 cup near-boiling water over the ingredients, let sit a few minutes, stirring occasionally.

Snacks
Super Roasted Chickpea Snack
2 cups chick- peas (1 can or cooked from 1 cup dry)
1 tsp olive oil
1/4 tsp turmeric powder
1 tblsp rose- mary needles
Salt, pepper, cayenne & coriander to taste
Great snack, loaded with antioxidants! Combine all ingredients in a large cast iron skillet or oven pan. Bake at 350 degrees, stirring frequently, until crisp and golden (~30 min). Best fresh as a snack or salad topper. Will keep in a tightly sealed container for up to three days.
Other Treats

Autumn Apple-Cranberry Salad

A delicious, filling fall salad! Serves two.
Salad:
Red lettuce or other mixed salad greens, chopped or whole baby leaves
1 large tart, crisp apple (or pear), chopped
2 tablespoons dried cranberries
1 ounce sharp cheddar, cubed
For crunch: toasted pumpkin seeds/pepitas, candied walnuts or pecans, or bacon
Salmon (canned, grilled, dinner leftovers) as a protein topper if you have/like it
Spicy Maple-Mustard Dressing
Use 1/2 to 1 ounce per person and store extras in the fridge for 1+ years.
2 ounces of fire cider
1 ounce whole grain mustard
1 ounce of maple syrup or to taste
1 ounce of olive oil
Sage Browned Butter
1 handful whole, fresh sage leaves
1 stick butter
Salt to taste, if necessary or desired
1 loaf bread, cut into pieces
Melt butter in a skillet, drop in leaves. Fry for about 30 to 60 seconds. Remove from heat, let sit for a few more minutes. Use as a dipping oil for bread. Fried leaves can be removed and used as garnish, if desired.
Cream Sauce Variation: After frying the leaves, add 1/4 cup Brookford Farm heavy whipping cream, simmer for 5 minutes. For a thick sauce, combine a little cream with cornstarch and add at the end to the simmered sauce, continue cooking until thickened. A decadent sauce for squash ravioli, chowder, soups, or to drizzle over roasted or mashed winter squash.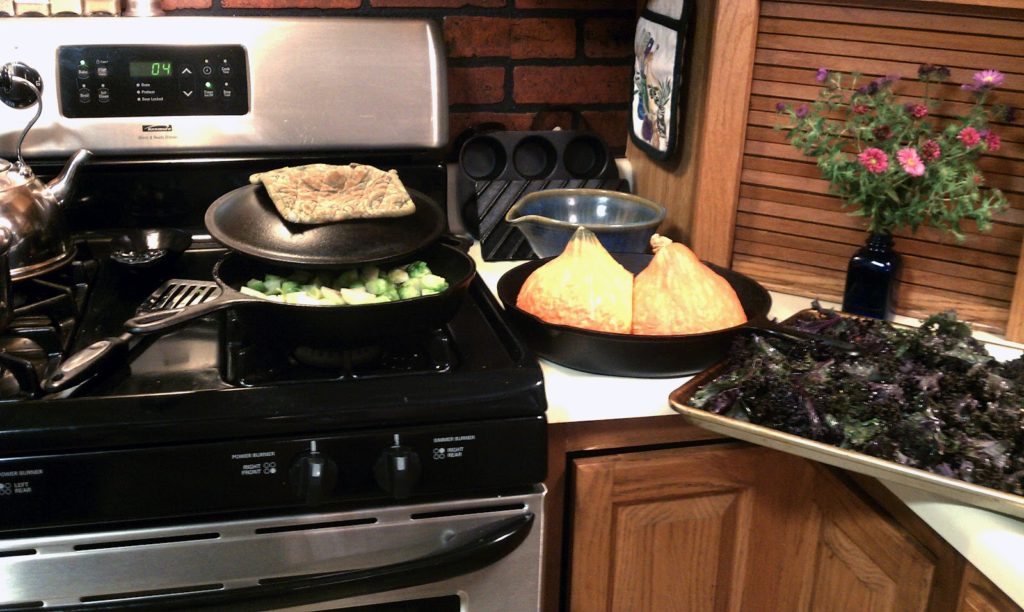 My Seasonal Food Blog Posts
Delicata Squash - edible peel, yummy seeds, delicious flavor
Kuri Squash - move over, pumpkin
Apples - including my whole grain apple crisp!
Pears - including spiced maple pear cordial
Kale - hello, kale chips!
Superfoods of the Season: Brussels Sprouts, Apples, Cranberries, Squash, Cardamom
Root Vegetables: Sweet Potatoes, Rutabagas, Turnips, Celeriac, Parsnips, Beets, Radishes, Daikon
Potatoes: humble and amazing
Holiday Cooking with Fresh Herbs
No-Knead Bread: not super healthy, but an easy, delicious addition to special meals