Once upon a time, I liked fewer than five vegetables, and corn on the cob was at the top of the list. Even though my taste buds have expanded to include a kaleidoscope of veggies, fresh-picked corn still holds a special place in my culinary repertoire. Though much maligned (and tinkered with), good corn is a fantastic whole food, locally obtainable carb to accompany your summer meals. Just keep your portions reasonable, serve alongside non-starchy veggies and protein, and you've got a great meal. Here are some ways to expand your use of this seasonal gem…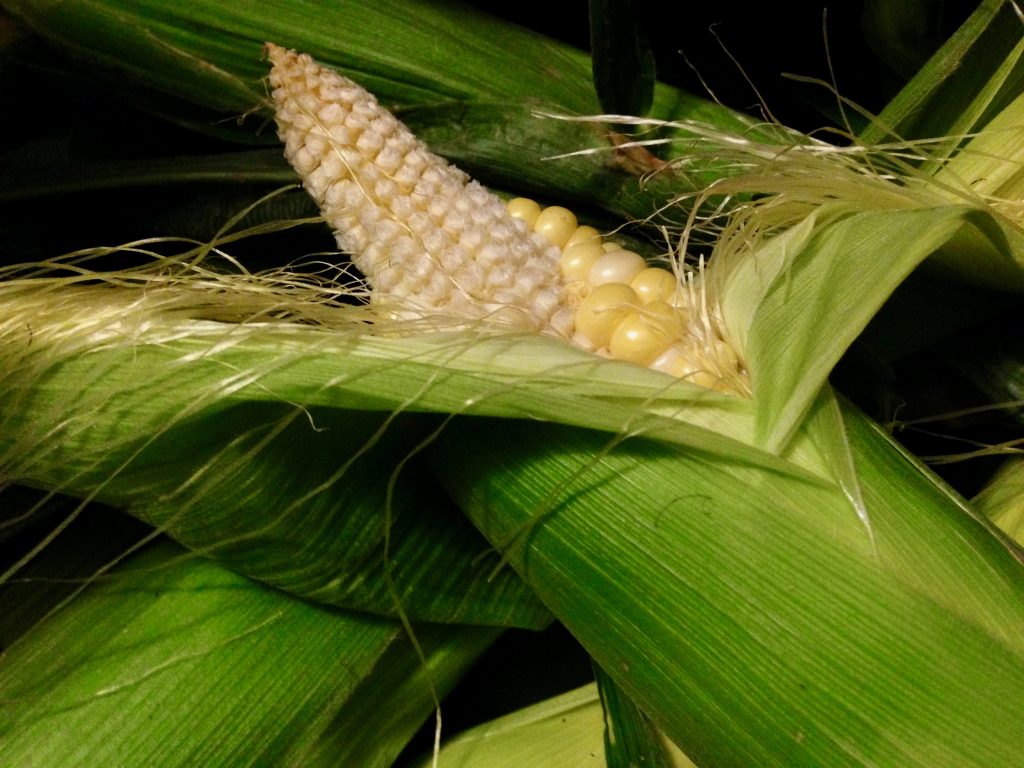 The Classic
Instead of drowning your corn on the cob in water and boiling it to death, try steaming it in just an inch or so of water. It saves time – you'll go from cold water to perfect corn in just about 10 minutes – and your corn is more apt to come out perfectly crisp. Thank my Aunt Suki for this fabulous tip. It's best to use corn picked that day; it gets starchier as it sits. Whether you're making one or two dozen ears, this technique works perfectly. I'm a purist. I prefer my corn on the cob rubbed with pastured-raised organic butter and good quality salt. But you can certainly experiment with lime juice, cayenne, smoked paprika, and other fancy pants ingredients. We often steam veggies right in with the corn – cauliflower, green beans, broccoli, and kale are all favorites in our house – and serve it alongside a grilled or pan-fried veggie burger, steak, or fish (or, when I'm starving and weak, an all-natural hot dog, canned salmon, or sardines). Dinner is ready in just 15 minutes! Perfect when busy days and hot temps make the idea of cooking dinner seem like torture. Sit down on the back porch table, pour a glass of wine, and enjoy the last of summer's beautiful nights.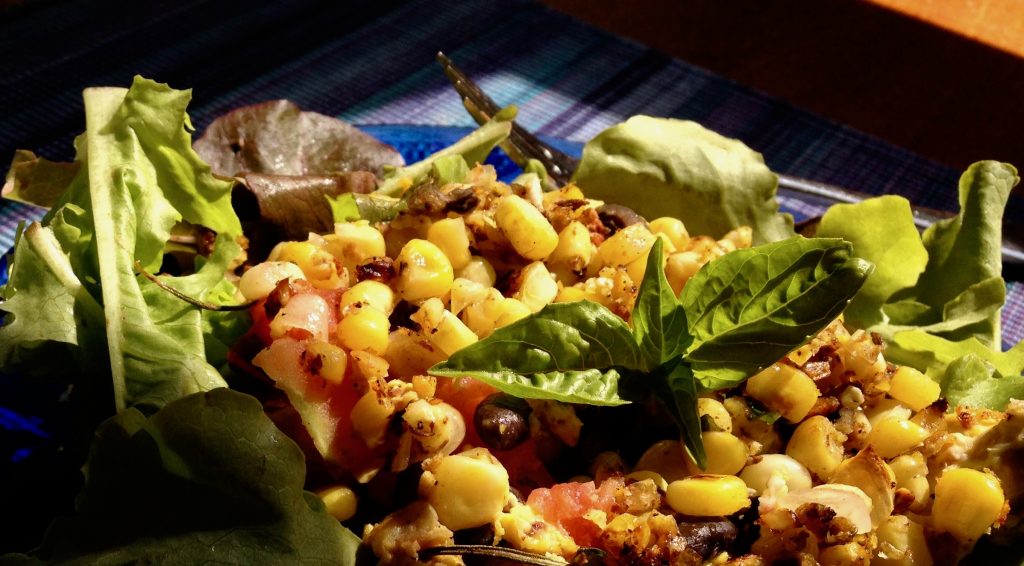 The Sauté
This adapts as well to breakfast as it does to dinner or lunch. Simply husk the corn from the cob (you can freeze the cobs for later use in soup stocks), and sauté the kernels over medium heat with olive oil in a skillet. Toss in whatever is on hand or floats your boat: onions, beans, leftover meat, greens, zucchini, herbs, eggs, canned salmon, cheese… This is another super fast dish. Here's one of my favorite breakfast blends to get you started. This recipe is great with fresh corn, but it's still great if your corn is a few days old (or even pre-cooked, if you were over-eager in your corn count at the weekend's BBQ).
Herbed Corn Breakfast 

Serves one, but easily multiplied.
1 ear of corn, shucked
Small diced shallot
2 tablespoons beans
3 cherry tomatoes
1 egg
1 tablespoon cheese (cheddar, motz, goat cheese… whatever you like)
1 handful herbs: basil, bee balm blossoms, oregano, tarragon, chives
Bed of lettuce
Olive oil
Salt & pepper
In a medium skillet over medium heat, add oil and toss corn and shallot. After 1-2 minutes, toss again and add beans. Meanwhile, mix the egg in a bowl with cheese, half the herbs, and some salt and pepper. As the corn mix begins to get golden, add salt, pepper, tomatoes, and the rest of the herbs. After about 30 seconds, add the egg, and scramble it until the egg is cooked through. Remove from heat and serve on a bed of lettuce.
Those Leftover Cobs
As the summer nights get cooler, chowders enter our dinner repertoire, with leftovers making their way into lunch box thermoses. Use your leftover husked corn cobs to simmer into soup stock for 30 minutes or more. It gives a pleasant corn flavor to the soup.
Healthier Fish Chowder 

Most chowder enthusiasts insist that it must be made with tons of heavy cream and consist of no more vegetables than potatoes, onions, and maybe corn. This chowder breaks many of those rules but still has a great, creamy flavor that classic chowder fans enjoy. You can easily add or substitute chopped clams or skip the seafood all together. This recipe makes 1 to 1 1/2 gallons. It keeps about a week in the fridge and freezes ok.
4-6 ears of corn, separated into cobs and kernels (or leftover cobs plus 1 bag frozen corn)
2 yellow onions, chopped small
2-6 tablespoons of butter and/or olive oil
6 cloves of garlic, minced
2 colored bell peppers (not green), chopped
2 medium sweet potatoes, cubed
2 medium white potatoes, cubed
2 bags of frozen corn, carrots, and peas mix
2-3 pounds of white fish fillets
Salt, pepper, crushed red pepper, paprika, dried dill weed, and celery seed powder to taste.
2 tablespoons cornstarch
1/4 cup cold water
1 to 2 cups of heavy cream.
1 to 1.5 quarts of whole milk
Simmer corn cobs (without the kernels) for 30 minutes four cups of salted water. Meanwhile, saute onions in butter/olive oil until mostly cooked. Then add garlic, bell peppers. Sauté a little more. Remove the corn cobs from the water, add your sautéed mix plus the potatoes, sweet potatoes, spices. Add more water if needed, but only just barely cover the vegetables. Simmer until vegetables are cooked, about 20 minutes. Add frozen vegetables and the white fish fillets. Bring back to a gentle simmer until the fish is opaque and flakes easily. In a small bowl, combine cornstarch and cold water, stir until well-mixed, then pour into soup pot. Let simmer until cornstarch sets. Stir in milk and cream. Check spices and add more if necessary.
My personal favorite spot to buy fresh corn on the cob is LaValley Farm stand in Hooksett, NH, right down the road (the corn actually grows along the river in Allenstown). They've been ranked one of the best farms in the state for tasty corn on the cob and it is DEElicious! Although they're not organic (insert sad face), they do not use GMO seeds. It's hard to find organic and local, fresh-picked corn, but sometimes I'm lucky enough to get it from Roger Noonan's fabulous Middle Branch Farm and other bigger local organic farms that have the energy and resources fo this hungry crop.
I'm passionate about good quality, fresh corn - if it's not amazing, it's not worth eating! At a clam shack in Maine that offered corn cob as a side, I asked them what it was like. (Restaurant corn is notoriously terrible.) The server looked at me blankly and flatly stated, "It's corn." Yeahhh. I'll pass. If you aren't gushing with how fresh, local, and delicious your corn is right now, I'm not buying.
Maria runs Wintergreen Botanicals Herbal Clinic & Education Center in Allenstown. She offers classes and health consultations both on location and online/distance. This blog originally appeared on the Concord Co-op website and has been reprinted with permission.
The statements made on this blog have not been evaluated by the FDA and are not intended to diagnose, prescribe, recommend, or offer medical advice. Please see your health care practitioner for help regarding choices and to avoid herb-drug interactions.
Leading corn field photo by Glenn Carstens-Peters on Unsplash... the rest of the photos by Maria