Meet the Team
at Wintergreen Botanicals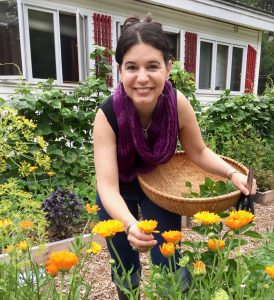 Maria Noël Groves, RH (AHG)
Owner & Lead Herbalist
Clinical Herbalist
Maria runs Wintergreen Botanicals as nearly a one-woman-show. With more than 20 years experience in herbalism, she strives to educate and empower her students, clients, and readers with the foundational believe that Good Health Grows in Nature. Maria opened her private practice full time in 2007, and it continues to thrive. She's registered as a professional herbalist with the American Herbalists Guild. In 2004, she was certified as a clinical herbalist by the Southwest School of Botanical Medicine, where she received an invaluable education from the late, great Michael Moore and his team of guest teachers. Maria also completed Rosemary Gladstar's beginner and advanced programs at Sage Mountain, Foundations in Herbalism with Nancy and Michael Phillips at HeartSong Farm, and the Flower Essence Practitioner Training Program with Christine Tolf at Lichenwood Herbals.
Maria's award-winning bestselling book Body into Balance was published in 2016 and continues to be listed as a top herbal by various sources and core textbook in herbal study programs across the country. Her forthcoming Grow Your Own Herbal Remedies releases in March 2019.
She speaks and writes nationally about medicinal herbs for various organizations including the American Herbalists Guild, Maryland University of Integrative Health, Herbal Academy, Mother Earth News Fair, Massachusetts College of Pharmacy and Health Sciences, and Herb Quarterly. Her three-tiered business focuses on education and empowerment via classes, health consultations, and writing.
When Maria isn't busy working and playing with the plants, she enjoys playing outdoors and eating delicious food. She spends lots of time in the woods with her rescue dog Reishi and enjoys outdoor adventures (hiking, kayaking, xc skiing...) and cuisine with her husband Shannon. She also keeps a small flock of clucking and crowing backyard chickens  (a.k.a. the poor sandy pine forest soil remediation project).
See Maria's full background here.
---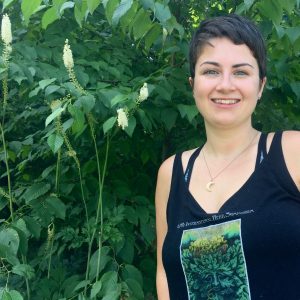 Lyndsey Nolan
Productivity Director
Community Herbalist
In summer 2018, Lyndsey joined the Wintergreen Botanicals team to help Maria manage the growing business and to assist and improve our efficiency with all manner of things including the garden management, classroom support, and educational material development. Lyndsey comes with a varied herbal education that includes study with Wintergreen Botanicals as well as Misty Meadows, and Sage Mountain.
Lyndsey is a trained community herbalist, mother, wife, and lover of nature. She also has an insatiable passion for wholistic wellness, which led her to herbalism specializing in creating teas, tinctures, and salves with potent healing properties for whatever is ailing her family, friends or clients. Her very first apprenticeship began in Lee, NH, at Misty Meadows herbal center under the guidance of Wendy Fogg back in 2014. Graduating with the honor of receiving several awards, including, the Herbal Wise Woman award, she went on to then become the shop herbalist for two years. She continued her advanced studies with various teachers such as: Margi Flint, Tammi Sweet, Matthew Wood, jim mcdonald, Rochelle Baca, and, of course, Maria Noel Groves. She's currently taking Rosemary Gladstar's, Science and Art of Herbalism correspondence course. She regularly attends the International Herb Symposium and the New England Women's herbal conference. She feels at home in nature's classroom studying what feeds her soul.
When she isn't studying or medicine making, she is actively seeking adventure by hiking as many of the mountain peaks in our New Hampshire backyard as possible. She is a passionate advocate for Earth and all its inhabitants. Laughter and kindness are the remedies she favors most and freely spreads them to whomever she can!
---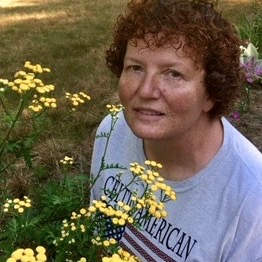 Ruth Droescher
Education Advisor
Herbalist
Ruth also joined the team in 2018 to help Maria with the growing business. As one of Maria's star graduates of the Herbalist Intensive Training Program, Ruth has a keen eye for quality herbal information and provides invaluable support correcting student homework for Maria's series with excellent comments and suggestions. If you're involved with gardening in New Hampshire, there's a good chance you've already met Ruth because she's very active in the community!
Like many backyard herbalists, Ruth's interest in plant medicine began in the kitchen and then progressed to the garden. Her first piece of furniture was a spice cabinet (purchased with S&H Green Stamps as a teenager!) and her earliest gardens began with thyme, sage, and rue. Although her professional career was primarily associated with traditional western medicine, her interest in using herbs and spices for health and wellbeing developed as she learned more about the benefits of whole plant medicine firsthand. When she met Maria at a plant walk at Wintergreen Botanicals, she became committed to learning as much as she could about the field.
Since then, she has competed all of Maria's herbalist training sessions, and has also become both an Advanced Master Gardener and a Natural Resources Steward with the University of New Hampshire Extension. She volunteers for them regularly speaking on her favorite topics of pollinator gardens, native plants, and gardening for birds and wildlife. She's on the board of the Master Gardeners' Alumni Association and has volunteered at several historic gardens including those at Strawbery Banke and the Canterbury Shaker Village. She also works as a naturalist in local schools to help students learn more about the plants and wildlife in their own area.
Ruth and her husband continue to enjoy the culinary delights of herbs, exploring the many ethnic cuisines through both cooking and cocktails. The initial spice cabinet is now one of several, along with a library of new and old herbals, cookbooks, and gardening manuals that provide inspiration and new herbs to explore. Ruth has gardened in New England since childhood, and in New Hampshire for nearly twenty years. Her current backyard is registered as a Monarch Waystation, and with the National Wildlife Federation as Certified Wildlife Habitat.
---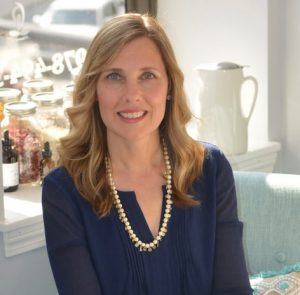 Liane Moccia
Education Advisor
Clinical Herbalist
Liane's herbal journey started when she was pregnant with her twin daughters and she began looking at holistic ways to manage her health, as well as the health of her growing family. She soon discovered herbal medicine as a way to help manage the cuts, scrapes, and viral illnesses that are so common with children. As she learned more, and started seeing firsthand the power of plants, Liane realized she wanted to be more than a "home herbalist." So after spending twenty years in corporate marketing, she jumped into more formal herbal education.
In 2018, Liane completed all of Maria's full herbalist training program and was certified as an herbalist by Wintergreen Botanicals. She opened an herbal practice in her home town of Andover, Massachusetts, where she focuses on stress, energy, sleep, and hormone balance. Her passion for learning keeps her busy with herbal seminars, continuing education programs, and conferences.
In her free time, Liane enjoys experimenting with new herbal tea blends, making herbal tinctures, or creating a new class to teach in her community.  She loves spending time with her husband, their two daughters, and their poodle and uses herbs daily to help stay energized and balanced.