.During the holidays, I tend to put a few of my good health habits aside and indulge in a day or two of intense baking and making sweet treats to share with my loved ones. I'd tell you that the goodies I make are full of whole grains and nuts, but it'd be a lie. This time of year, I want nothing less than the festive sweet treats I learned how to make from my mom.
Yet, these recipes do get a little bit of an upgrade. Crisco has been replaced with organic shortening, coconut oil, or butter. My organic, grass-fed butter is so yellow it gives my sugar cookies a golden hew, and my fudge has half the sugar and twice to cocoa content of the original recipe.These recipes are truly yummy and make great gifts. If you're turned off by the amount of sugar and butter in such treats, remember that moderation is key. One of my thin sugar cookies has less than 35 calories, and a heaping teaspoon (1/2 ounce) of hot fudge has about 50 calories. I never eat a whole batch, either. Remember: These are gifts that you'll primarily be giving away. They freeze well, too.
My Not-So-Secret Family Recipes

Brigham's Hot Fudge Sauce
My mother got this in a homemade book of recipes as a wedding gift, complete with '70s-style bright orange and red flowers and paisley artwork. Rumor has it that this is the original recipe from Brigham's Ice Cream (which started out as a shop near where my mom grew up in Boston).  This is simply the best hot fudge you'll ever have! (Warning: The cocoa content is so high, you might not sleep at night!) This recipe makes a QUART of hot fudge, so plan to bring it to a party, give some away, or freeze it in smaller containers. It keeps for about a month in the fridge, a year in the freezer. When cold or room temp, it will be very thick, almost fudge-y, so you'll want to warm it to pour over ice cream or brownies. Buy the best quality chocolate you can find or afford. Your fudge will be much better for it. Hershey's brand will NOT do. Trust me. Also make sure it's unsweetened chocolate. I use twice the chocolate and half the sugar of the original recipe, but you can make yours to taste.
8 ounces of quality pure unsweetened baking chocolate bars or chips
(original recipe: 4 ounces)
1/2  pound of confectioner's sugar (original recipe: 1 pound)
1 stick of butter (no substitutions!)
1 can (13 1/2 ounces) evaporated milk (NOT sweetened condensed milk)
1 teaspoon real vanilla extract
Melt butter and chocolate in a saucepan. Alternately add milk and half of the sugar. Taste to and add more sugar and/or chocolate as desired. Stirring, bring to a slow boil (bubbles just around the edge of the pan). Remove from heat, add vanilla, stir. Pour into one quart jar or into smaller jars. Keep refrigerated or freeze. (It is not shelf stable.)
Vegan/Dairy-Free Hot Fudge Variation: Follow the directions above using 4 ounces pure chocolate, 1 can sweetened condensed coconut milk, confectioner sugar* to taste (about 1/8 lb... less than the regular recipe because the condensed coconut milk is already sweetened), and 1/2 to 1 teaspoon vanilla. If desired, melt 2 tablespoons coconut or Earth Balance "butter" with the chocolate. *Strict vegans will need to find a vegan sugar company such as Wholesome Organic Sweeteners.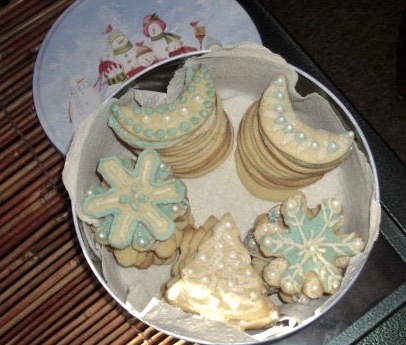 Sugar Cookies
Any cookie that calls for almost as much butter as sugar wins in my book. These are absolutely delicious... but very time-consuming to make. Use a variety of cookie cutters like snowflakes, stars, and evergreen trees, but try to opt for simple designs with pieces that won't break off easily. Visit your local kitchen shop for unique cookie cutter shapes. I have a collection of snowflakes and other nature-inspired cutters from Things Are Cooking in downtown Concord. A basic confectioner's sugar, vanilla, butter, and milk frosting is great on these cookies, though I also leave most of the batch unfrosted. Before you think of making a double-batch, know that single batch makes about 100 thin, small cookies! If you make a double-batch, you'll be crying with exhaustion around 2 am trying to frost them all.
3/4 cup butter
1 cup sugar
2 eggs
1 teaspoon vanilla
2 1/2 cups flour
1 teaspoon baking powder
1 teaspoon salt
Mix dry ingredients, then mix in wet ingredients thoroughly.
Cover and chill for one hour.
Preheat oven to 400°F.
Roll 1/8-inch thick, cut into shapes.
Carefully transfer to ungreased baking sheet with spatula.
Bake for 6 to 8 minutes, until golden. Watch carefully – they burn easily! Cool on a rack.