Pain is like a fire alarm. You don't want to simply shut it off but to attend to the fires themselves, getting to the root of the problem. Using herbs for pain support is not as simple as taking some ibuprofen. No one herb will work for everyone, yet many herbs can still be very supportive when chosen for the individual person's presentation and used alongside diet and lifestyle therapies that address the root causes of pain and reduce systemic inflammation.
In my recent guest blog post for the Herbal Academy, I feature five of my favorite pain herbs that you can grow or wildcraft easily in the backyard. This is an excerpt from my book Grow Your Own Herbal Remedies.
In this article, you'll learn...
Why blue vervain is so fabulous for muscle spasms and tension
How black cohosh supports rheumatic aches and pains
That Solomon's seal supports joints, tendons, and ligaments
How the common weed horsetail supports healthy bones and joints
Why the root of mullein also makes a fabulous pain-support remedy
Favorite flower essences for pain support
How to make my Aches & Pains, Strains & Sprains Tincture/Liniment to take internally or apply topically
Interested in the book Grow Your Own Herbal Remedies?
Order a signed copy through me and get all these awesome limited-time bonus goodies!
Juicy e-book bonus filled with additional plant profiles, a guide to the uses of common culinary herbs, a mushroom "garden," and useful charts
Exclusive recipe-making videos featuring recipes from the Brain-Boosting, Tummy Soothing, and Immune SOS gardens: Brainiac Bonbons, Gut-Healing Tea, Elderberry Syrup, Elder-Rosehip Oxymel, and two memory-boosting teas.
10% off one of my online herbal study course series!
$5 off coupon for an online $50 seed order at Strictly Medicinal Seeds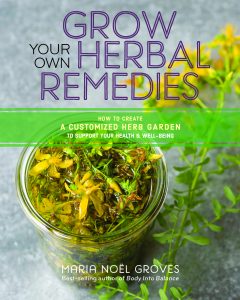 Learn More About Herbs for Pain
Both my books have extension sections on herbs for pain.
Check out this guest blog post of mine on ArborVitae on some of my favorite pain herbs (that don't necessarily grow in the garden)
Request the Chronic Pain online class from my Beyond the Home Herbalist Series for just $25